Your work will be done as if it were my own home.
My goal is to provide each and every customer with affordable, professional interior painting that reflects a high level of commitment to quality. I strive to provide value and meet or exceed the expectations of customers. 100% customer satisfaction leads to the word of mouth referrals that this business is built upon.
I offer flexible scheduling, so your painting project can be done at a time that suits you. Daily starting and ending times can also be set around your schedule. I maintain a neat, smoke-free workspace and clean up each day and after the project is completed.
I personally work on every project and I take pride in quality workmanship! I have chosen to limit myself to the specific area of interior painting because that is what I excel at. I'm insured and I'm licensed by the state of Michigan, Lic. # 2103206830.
The Difference Between Ordinary and Extraordinary is the Little Extra!
Here's a few recently completed works.
Support Grand Rapids area businesses!
I'm a local painting contractor, living in Rockford, working throughout the greater Grand Rapids area. My service area includes: Rockford, Cannonsburg, Comstock Park, Belmont, Sparta, Cedar Springs, Greenville, Belding, Lowell, Ada, Alto, East Grand Rapids, Wyoming, Grandville, Kentwood, Caledonia, Byron Center, Hudsonville, Jenison, Walker, Allendale, Cascade and more.
How I ensure beautiful results:
Preparation:
This is the most important step! Repairing obvious nail holes, water damage, or other blemishes on walls and ceilings is a given. A light sanding of the walls takes out the lumps, bumps and inclusions left in the previous paint job, leaving you with a surface that looks like it's supposed to.
Sometimes walls have painted-over blemishes — unsightly old repairs, scars from wall paper removal, peeled paint, etc. Most often these can be repaired easily, leaving you with a wall looking smooth like a wall should.
If it's worth painting, it's worth doing the prep.
Paint quality:
I always recommend using the high end of high quality paints like Benjamin Moore, Graham, Repcolite, Valspar or Sherwin Williams. Actually the high end of any brand paint is usually good paint and your best choice.
Lower quality paints, even the low end of quality brands don't really save you money because they can require an additional coat to get the desired finish, costing you more than you saved.
To tape or not to tape:
I choose not to use tape when cutting in because in my opinion a far superior line can be cut freehand in most instances. The only time I use tape is to protect surfaces such as trim from splatter while rolling. Tape can leave a raised paint edge, can be hard to get a perfect line exactly where you want it and if not done right allows paint to get under the tape edge leaving an unsightly and uneven line.
Bob the Painter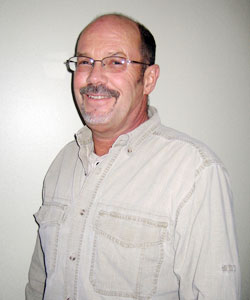 Located in Rockford, Michigan
(616) 250-0658
---